Are you looking for an affordable and quick turnaround Sony PlayStation 3 repair service in London? Well, Creative IT Console Repairs is here to help you! Our trained technicians can diagnose and fix your original, Slim and Super Slim PlayStation 3 models and have you back gaming in no time.
Same Day PlayStation 3 / PS3 Repairs in London
At Creative IT, we have fixed thousands of PlayStation 3 game consoles and with our many years of experience in the industry we have seen just about everything that can go wrong with PS3 video game consoles including PS3 does not turn on, PS3 won't read games or other discs, PS3 blinking red light, hard drive failure, console won't eject discs, game freezes while loading or during gameplay, problems while updating the system software, PlayStation 3 turns on but won't load menu, issue with the power supply, PS3 shuts off on its own, hardware malfunction on the motherboard, PlayStation 3 won't connect to internet, PS3 controller won't connect, power problems and PS3 sound and video problems.
We can repair most issues with PS3 consoles including: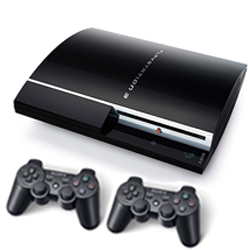 Yellow Light of Death (YLOD)
Red Screen Of Death
Black Screen of Death
Green Light of Death (GLOD)
Disc read errors
Discs not ejecting
PlayStation 3 overheating
No picture or sound
No power
Broken HDMI port
Why Choose Us for your London Sony PlayStation 3 Repairs?
All Sony PlayStation repairs come with a 90 day warranty
Competitive rates and exceptional customer service
Fast, easy and affordable service
FREE, no obligation quotes
Knowledgeable and experienced console technicians
Walk in and mail in PlayStation 3 repair services
We can diagnose and fix all PlayStation 3 faults
At Creative IT, our mission is to provide a timely service for your original, Slim and Super Slim models at affordable prices. We maintain a large inventory of spare parts and have advanced equipment to perform Sony PS3 repair services promptly and affordably and to ensure minimum downtime. Most of the repairs can be done while you wait.
Bring your PlayStation 3 to our Central London store for repairs or mail it to us. No appointment necessary. Call us on 020 7237 6805 or email us at info@consolerepairs.org.uk for more information.